YAHHHHHHH
Today, we'll be taking a look an the prospects that will eventually be subjected to a colorful, spit-filled, chew-out at some point in their near futures. Unsurprisingly, Notre Dame has continued its success on the recruiting trail with 12 verbal commitments. Notre Dame knows what it means to recruit nationally (cue Mark Dantonio joke), and they have 12 players from 11 different states. The Fighting Irish have 5 OL commits that all had a Michigan offer at some point in time and 8 commits with Michigan offers in total according to Rivals.com. Highly talented recruiting classes are nothing new in South Bend, and we expect that Brian Kelly will continue to assemble a Top 10/15 class before all is said and done...
Steve Elmer OL- Midland, MI
Elmer garnered a huge amount of attention from Michigan fans early on in the process, but he surprisingly committed to ND
after
we beat them under the lights. Seems like an odd move to commit to a school that lost in one of the most exciting games of recent memory in an absolutely unreal environment, but if he still felt that strongly about ND after that heart break, it must be for him. Elmer is a tall, wide-bodied tackle prospect that is already over 300lbs and does not look like he carries much bad weight at all. Elmer is currently the Irish's highest ranked prospect, but his Junior film does not display the dominance that I typically expect from a top-50 prospect. He did not dominate some of the camps he has recently attended, which could also affect his current ranking. Elmer is undoubtedly a great prospect, but he will have to work on being more consistent with his technique and developing some more aggression.
Michigan Player Comparison-
Ben Braden
(Large, large players that display solid athleticism but don't jump off the screen as being terribly aggressive or dominating. Both seem to project to RT.)
Elmer
Hunter Bivin OL- Owensboro, KY
Bivin is another 4-Star prospect with a very impressive offer list. Bivin is not the most athletic OL and tends to play a little high at times, but his film reveals a high-effort player who never gives up on his blocks. He displays hints of nastiness, but he will need to add some lower and upper body strength before contributing at ND. He looks pretty well-filled out right now and won't have to add a considerable amount of mass before he is ready to play. Overall, I was very impressed with Bivin's film, and he seems like a pretty well-rounded pass and run blocker for a high-school player.
Michigan Player Comparison
- Mike Schofield
John Montelus OL- Everett, MA
Montelus is a tad shorter than the other 4 ND OL commits at 6'5", but he is very athletic out of his stance and moves his feet very well. He does a good job of mirroring defensive players while pass-blocking, and he is quick enough to attack players in the second level while run-blocking. Montelus has the athletic ability to play tackle, in my opinion, but with such tall prospects in the class, I wouldn't be surprised if Montelus ended up as an effective pulling guard at ND.
Michigan Player Comparison
-*
Mike McGlinchey OL- Philadelphia, PA
McGlinchey is an extremely tall left tackle prospect that will have to add a considerable amount of mass to his frame. At this point, McGlinchey looks like an enormous TE and moves with ease. His athleticism and frame reveal sky-high potential, but adding strength will be his biggest challenge. I wouldn't bet on McGlinchey getting early playing time, but he could be the most highly-regarded prospect when all is said and done depending on how he adds mass.
Michigan
(Sort of)
Player Comparison
- Former M commit and Oregon LT, Jake Fisher
Guess who McGlinchey is...
Colin McGovern OL- New Lenox, IL
McGovern, to me, had some of the most impressive film in ND's current recruiting class, but the recruiting services differ pretty widely in their assessments. ESPN has him ranked as the #7 overall OT prospect, Scout has him as the #9 OT, but Rivals has him all the way down at #38. Based on his film, I fully expect Rivals to give McGovern a significant bump in the next rankings. McGovern has great length and displays the ability to play anywhere on the line. He drives his feet well while run blocking and looks very athletic, chasing players down the field. His tape mostly features run-blocking, but the few pass plays do not look bad either. His pass-blocking does not look as refined as Montelus's or Bivin's, but this could have a lot to do with his high school's scheme, not his ability.
Michigan Player Comparison
- *
ND's Five OL Commits
***Due to Michigan's lack of players on the OL recently, I did not find an appropriate comparison based on the film of these prospects...
-Who do they remind you of???
Mike Heuerman TE- Naples, FL
Heuerman, the brother of
2011 Buckeye TE commit, Jeff Heuerman
chose ND at a bit of a surprise to some Buckeye fans. Many,
including the younger Heuerman himself
, at one point figured the TE prospect would end up committing to OSU because of his brother, but Notre Dame was the perfect fit. Heuerman shows pretty impressive blocking in his film, and he also runs smoothly when split out. He is a long strider, but he does not do much to make people miss after the catch. His athleticism will help him in the pass game, and he will create some mismatches in the slot with his size. Good get for ND...
Michigan
(OSU)
Player Comparison
- His brother, Jeff
Wellllll.... That's Heuerman in the middle...and some other Buckeye
fan who has earned his share of attention lately...too soon?
Jacob Matuska TE/DE- Columbus, OH
Matuska, once recruited by Michigan, offers a more traditional skill-set at the TE position in comparison to Heuerman. Matuska does not appear to be terribly fast, but he does a good job of catching the ball away from his body when thrown to. He is already 240lbs+ and displays great run blocking abilities in his film.
EDIT- According to IrishIllustrated.com, Matuska will be used as a DE in ND's 3-4 scheme... "
Recruited at tight end by most schools, Notre Dame sees a defensive end. The Irish have needs for at least three at this position following Aaron Lynch's transfer. Matuska gets Notre Dame off to a solid start."
It is sort of unknown at this point how good Matuska is/will be on the defensive side of the ball, but he is a big bodied kid that shows good aggression on offense...hopefully, for Brian Kelly, it will translate to the other side of the ball.
Michigan Player Comparison
-
James Onwualu WR- St. Paul, MN
Onwualu held Michigan in his top group, but many assumed he would end up at ND. He plays all over the field for his high school team, and shows ability at RB, WR, and on the defensive side of the ball as well. Most project him to WR in college, and he is lauded for his ability to rack up YAC. He is a powerfully built kid, but he has good speed as well, and makes a lot of people miss. If he makes the full-time switch to WR at ND, he will have to work on his route-running...You can tell he is an athlete playing WR and not a natural WR at this point. He has the ability and athleticism to play a number of roles for ND.
Michigan
(ND)
Player Comparison
- RB/WR Theo Riddick
Corey Robinson WR- San Antonio, TX
Son of the Admiral, David Robinson, Corey Robinson is a tall (obviously) receiver commit for the Irish. Robinson does not have eye-popping speed or agility, but he runs pretty clean routes and should be a solid possession receiver for ND. He does display the ability to go up and get the ball over smaller defenders and does a good job of catching the ball at its highest point. Robinson could potentially grow into the TE position, but for now, he is a solid get at WR.
Michigan Player Comparison
- Jeremy Jackson
Malik Zaire QB- Ketting, OH
Zaire recently went head to head with Michigan's Shane Morris at the Columbus Elite 11 tryout and
made some heads turn.
Malik's film was extremely impressive to me as well, and I fear that he could be deadly in Brian Kelly's offense. His footwork as a passer will really jump out to you initially; his drops look very natural and he effortlessly moves within and out of the pocket. Additionally, the kid has a cannon for an arm and is very accurate, too. He has true dual-threat ability and is very dangerous in open space, but looks to pass first. Zaire is a competitor and is already a very comfortable passer and should have the ability to challenge
anyone
for playing time early on due to his unique skill set. Great get for ND....
Michigan
(VT)
Player Comparison
- Tyrod Taylor
These highlights are very, very good... And... I wish my high school announcers were this enthusiastic...
Devin Butler CB- DC
Butler is a taller, rangy CB prospect that could also play the FS spot at the next level. He has good instincts and anticipates the receivers movements when playing in zone coverage. He also has good awareness and does not have trouble finding the ball in the air. Butler does not have the fluid hips of some other elite CB's, but he plays fast and still gets in position to make plays. Butler is a solid get for ND and should help to shore up a secondary that has been plagued with poor CB play in recent years.
Michigan Player Comparison
- Donovan Warren
Oh, just kidding...
Rashad Kinlaw CB- Galloway, NJ
Probably
the least known
recruit in ND's class, Kinlaw is a dual-threat quarterback for his high school team, but the Notre Dame coaching staff has recruited him to play CB for the Irish. At 6'2", Kinlaw would be a very tall CB. Kinlaw's film reveals a good athlete who knifes through defenders with ease. Kinlaw is a good athlete, and the ND staff sees quite a bit of potential in him, but he will require some time to develop.
- I did not feel like there was enough film of Kinlaw in order to make an apt comparison.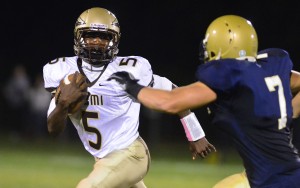 Overall, Notre Dame has a very impressive start on the recruiting trail, and outside of Michigan, ND's OL class will be one of the best in the country. All 5 prospects are tall and athletic, and a few of them could play a number of positions along the line. They are an outstanding foundation for ND's class and will be great assets to Brian Kelly's offense over the next few years. Out of Notre Dame's 12 commits, only 2 are defensive players, so that could be an indicator for how the rest of the class may look. The Irish are also is pursuit of a number of RB prospects including Michigan fan-favorite, Ty Isaac, who keeps ND in his Top Three alongside USC and Michigan.
And, just because it never gets old... ARE YOU F**KING KIDDING ME?!