Michigan has a problem. Fortunately, it's a good problem. Devin Gardner is too athletic to be standing on the sidelines. Reports from spring ball say this has been addressed and Borges found a way to Devin some work at WR. There is no doubt in my mind that this kid could be an absolute stud. I mean come on. He's 6'4", 204 lbs, and has shoulders like Dwight Howard (THIS IS AN EXAGGERATION; NO ONE has shoulders like Dwight Howard)
...But #7 is getting close, right? Anyway...
So, here is my hypothetical rambling about what should, could, and will happen this year with Devin:
The reports coming out of spring ball have emphasized that Devin is NOT a full time WR and that he will probably play more of Charles Woodson type of receiver, if at all, to prevent injury. Sorry, but I don't buy it. Charles Woodson was definitely a great receiver, but he also started and was the best DB to ever play at Michigan. There was a reason to keep Woodson off the field, but it wasn't injury. College football is too tiring to be playing both sides of the ball 100% of the time. If he did (which I'm sure he could have), he probably wouldn't have been as spectacular as he was on defense. Further, let's try to keep any comparisons to Mr. Woodson reserved for when they're
really
applicable (mostly never).
Yes, I understand the argument that Devin needs to learn the position. But don't tell me sitting on the sidelines is helping. I think Devin's biggest problem at QB is that he hasn't been out there enough. Some game time experience will definitely help him down the road. The QB-WR connection is a two-way street. We've seen guys like Ryan Tannehill go from lowly ranked WR to first-round draft pick in the NFL, and on the flip side there are guys like Keith Nichol at (QB to WR at Michigan State) or Antwaan Randle El (QB at Indiana, WR/KR in the NFL). Knowing how to play one position in the symbiotic relationship helped/helps these guys play the other. Devin benefits from this. OH, and did I mention how big he is? Yes, yes I did. Don't tell me some 5'9" CB is going to lay him out and end his career (I'm knocking on wood as I type).
(Still knocking on wood...)
(Still....still knocking.......)
What SHOULD Happen
I believe...
Devin IS our best deep threat WR
Devin SHOULD be out there on every passing down, whether it be at QB or WR
Devin SHOULD lead the team in both receptions and yards.
Why? Well, tell me one CB in the B1G that could stop a 6'4" Megatronesque WR........ Anyone?..... Thought so. We know he can do it. I've seen him do it, the coaches just need to let him. Plus, he can still develop as a QB. WR just don't need the type of practice other positions do. Especially someone with his talent.
What COULD Happen
Only one of the best QB, WR combos in Michigan history
Ok, maybe I am getting carried away. BUT JUST LOOK AT THOSE SMILES. Yes, getting carried away...
What WILL Happen
Hold on. Let me get out my crystal ball.
Well, I believe the reports. I just don't see the coaches growing a set and putting him out there. Is it stupid? To some extent, yes. But, I'm not the one getting paid buttloads of money to make these decisions like they do. Point is, I don't think they'll do it. Maybe I'm just being a pessimist, but that's my feeling on it for now. Still, wouldn't you take another Charles Woodson-y type, even if it was just at WR and not playing both ways?
I mean, I GUESS he was decent...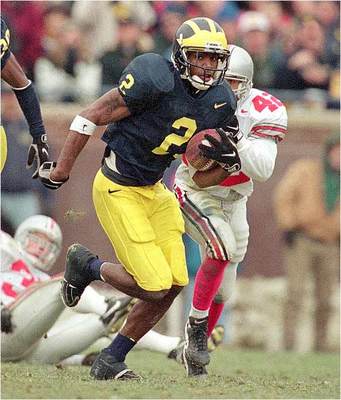 Take a minute and think about what could have been. This is what Chucky Dubs did in 1 year on 12 receptions.
| Game | Rec. | Yds. | Avg. Yds. | TD |
| --- | --- | --- | --- | --- |
| Colorado | 1 | 29 | 29 | 0 |
| Baylor | 2 | 45 | 22.5 | 1 |
| Indiana | 1 | 21 | 21 | 0 |
| Northwestern | 1 | 30 | 30 | 0 |
| Minnesota | 1 | 5 | 5 | 0 |
| Penn State | 1 | 37 | 37 | 1 |
| Wisconsin | 3 | 27 | 9 | 0 |
| Ohio (State) | 1 | 37 | 37 | 0 |
| Washington State | 1 | 7 | 7 | 0 |
| Season Totals | 12 | 238 | 19.8 | 2 |
| Career Totals | 25 | 402 | 16.1 | 3 |
Consider this. If Woodson caught 1 more pass every game, while continuing his avg of 19.8 ypc, he would've beat out Tai Streets for the most receiving yards that year....with only 2 receptions per game. Pretty impressive. Devin can be this "Charles Woodson" type of receiver, and have a great year. But imagine getting him the ball 6 or 7 times a game. That could be dangerous.
I leave you with this. (The quality sucks, but skip to 1:30)
Yeah. That's all.