After Junior Hemingway proudly donned first 'Legend Jersey' in the Maize and Blue, news has surfaced that Roy Roundtree will be the predecessor for Desmond Howard's #21. The criteria for earning a 'Legend Jersey' remains somewhat unclear at this point. As Michigan AD Dave Brandon introduced the concept to fans at the 2011 Notre Dame game,
he stated
, "The concept is a visible representation of iconic figures in our program's storied history that fans across the country will see every Saturday." Brandon also stated that it is imperative that "Hoke and all future Michigan head coaches will assign this historic jersey to a special player who is
deserving of the honor...
"
Brady Hoke and Desmond Howard both agreed
that the 5th Year Senior from Trotwood, OH is deserving of the honor for the 2012 season, and they lauded him for his leadership abilities, team-centric attitude, and academic achievements.
In my opinion, I foresee that after a player is deemed a 'Michigan Legend,' the coaching staff will try to find a player to wear the jersey every season. I don't think a player will necessarily have to put up gaudy numbers as a prerequisite for the honor, but he will have to demonstrate his ability to live up to the 'Michigan Man' ideals and the responsibilities of carrying on a Michigan Legend's legacy.
As the concept's future remains somewhat unclear, I will aim to provide my opinion on what 'Legends Jerseys' we will see in the future, and who I think could be deserving of the honor...
Obviously, Michigan's 3rd Heisman winner, and arguably one of the best college football players in history, is the apparent choice for the second 'Legend Jersey.' Chuck is a Michigan Legend is every imaginable facet of the title. He had an amazing playing career, marked with unforgettable highlight plays, fierce battles with Buckeye greats, in addition to some other stuff... like a Heisman trophy and a National Championship. Woodson has also made an outstanding impact in AA off the field through his personal donation of 2 million dollars to Mott Children's Hospital. Woodson will undoubtedly be the next 'Michigan Legend' inductee... the only uncertainty is when it will happen.
Potential #2- Blake Countess
Countess took the field by storm as a true freshman and demonstrated his ability to be a playmaker on Michigan's defense for years to come. With the same sort of tenacity as the original #2, Countess showed tremendous competitiveness, tenacity, and desire as a youngster and never showed an ounce of fear or intimidation on the field. Many Michigan fans have already deemed Countess the best CB since Leon Hall, and many expect big things from him this season. Countess was a leader on the field as a true freshman, and if Woodson's number is deemed 'Legendary,' don't be surprised if the Good Counsel alum wears #2 before all is said and done.
The 2-Time consensus All-American, 1st Overall pick in the 2008 NFL Draft, and 4x(!!!!) NFL Pro-Bowler is not too far removed from Ann Arbor, but in my opinion, he is already a Michigan legend. Michigan fans of all ages dream of players that could be the 'next Jake Long,' and I don't blame them. Long was an absolute man-child in a winged-helmet, and protected/paved the way for one the most prolific passing/rushing duo (Henne and Hart) in Michigan history. Michigan recruits and players all want to emulate Long's dominance on the field, and he has become a living image of what it means to be a Michigan Offensive lineman. Long's play has already cemented his legacy in Michigan football history, and if he is honored with a 'Legend Jersey' or not, #77 will always be 'Jake Long's number.'
Potential #77- Taylor Lewan
Other than the fact that Lewan already wears the number 77 and draws comparisons to Long, he is the most dominant Michigan lineman in the past few seasons. I doubt that Long will be honored before Lewan departs A2, but Lewan's play, passion, and leadership qualities make him an eligible player to carry on Long's legacy.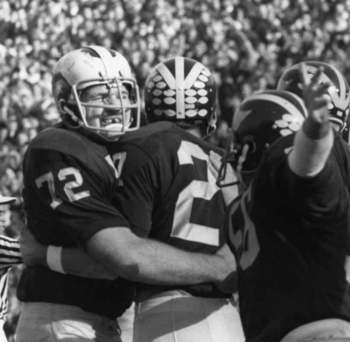 Dude has no teeth...
Dan Dierdorf, #72
Dierdorf was an absolute mack truck for Bo Schembechler and went on to have an outstanding NFL career. He was an integral part to Michigan's 1969 team that upset Woody Hayes's top-ranked Buckeyes which helped to initiate the ten-year war. Dan displayed nastiness and grit on the field and did not all a sack through the 76 and 77 seasons in the NFL...Dierdorf is a NFL Hall of Famer, a College Football Hall of Famer, a consensus All-American at Michigan, and a 6x Pro-Bowler. Dierdorf's Michigan legacy is not always as remembered as some of the newer players, but he is one of the best linemen to ever play the game and is a true Michigan Legend, in my opinion. He was a brawler on the field, and he is one of the most important players at the start of the Bo Schembechler era in Ann Arbor.
Potential #72- Kyle Bosch
Although Bosch has not even started his senior year in high school, there is just something about the kid that screams stud in the making. Besides recruiting rankings, interviews, high school film, and general chatter, there really is not much to base this 'projection' off of, but he just has the 'look' of a Michigan great. I may be wrong, and there may not even be a Long/Dierdorf 'Legends Jersey,' but I would be surprised if Bosch did not find his way into Michigan glory somehow.
Anthony Carter, #1
Michigan fans of all ages get 'giddy' at the thought of a receiver wearing #1...Memories of Braylon Edwards single handedly beating Michigan State, images of David Terrell vs. Alabama, or even Derrick Alexander all come to mind..However, Anthony Carter started it all. There is already so much 'Legend' associated with the number, it would seem almost irresponsible to not honor the player that created such a popular tradition in Michigan football. Every year, there are 3232 discussions about who will be the next player to wear the number or what the number represents, but I think it is time that we honor the man that gave us the tradition through his breathtaking play... Mr. Anthony Carter...
Potential #1- No one...for now..
I understand that all of my 'potential #x' are very pre-mature and will most likely not even happen since these jerseys are not even 'Legends,' but all of the above players are people that I can see creating their own place in Michigan football history and living up to the status of a Michigan Man throughout their careers. As of now, I just do not see that potential in our receiving core at this point in time, but I doubt anyone expected Roy Roundtree would be a 4 year impact either...
This list is obviously just a few ideas and is a rough sketch of what I think the 'Legends Jerseys' could turn into, so feel free to leave some feedback as to what players you think will be honored with the status of a 'Michigan Legend.'