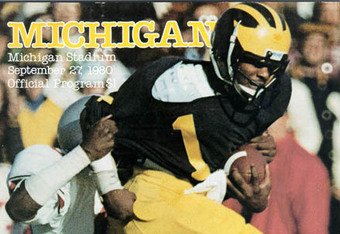 These last few weeks have been prettttyyy slow, so I decided it could be fun to try and create an 'All-Michigan' Depth Chart. Michigan has had some amazing players over the years, and I started to imagine what a team of all-time greats would look like. When you are trying to rank players that are all very, very good, the difference between a Second-Team and Third-team Guard is pretty minuscule, so keep that in mind. In that same respect, some of my choices were strictly a product of my bias toward certain players, their playing style, or maybe just my memories. When you see Tom Brady as a First-Team QB, don't think, "BUT OMG HE SUCKED AT MICH..." because this isn't a best career at Michigan list, but it is a list of who I would want to play on our "hypothetical" team against any other school, team, etc, and I wouldn't trade Tommy B at QB for almost anyone from any team.
As another disclaimer, I realize that there are some outstanding old Michigan players that deserve much of the credit for Michigan's success, significance, and tradition on the gridiron, but they don't ever seem to 'fit' on these lists when I see them. Maybe I'm weird and that's just me, but so be it. Obviously, Tom Harmon, Bennie Oosterbaan, and Willie Heston are some of the most valuable players in Michigan's history, so imagine this more like a All-Michigan Post-1950 Team, just to save my ass from missing a plethora of potentially deserving players.
EDIT- As I find more and more out about some of the players that are less talked about, creating this list getting more and more difficult... We really have had some outstanding players...
| Position | First Team All-UofM. |
| --- | --- |
| QB | Tom Brady |
| QB | Chad Henne |
| RB | Chris Perry |
| RB | Mike Hart |
| FB | BJ Askew |
| WR | Anthony Carter |
| WR | Braylon Edwards |
| WR | Desmond Howard |
| TE | Ron Kramer |
| Guard | Steve Hutchinson |
| Guard | Jumbo Elliot** |
| Tackle | Jake Long |
| Tackle | Dan Dierdorf |
| Center | David Baas |
| DT | Chris Hutchinson |
| DT | Mark Messner |
| DE | LaMarr Woodley |
| DE | Brandon Graham |
| LB | Ron Simpkins |
| LB | Jarrett Irons |
| LB | Erick Anderson |
| S | Tripp Welbourne |
| S | Keith Bostic |
| CB | Charles Woodson |
| CB | Ty Law |
| K/P | Zoltan Mesko |
NOTE- I debated including Pro Football Hall of Famer Len Ford on the list at DE over Woodley, but since he played at Michigan 'Pre-1950,' I followed my own rule (Stupid, I know) and omitted him. He had an illustrious NFL career, winning three Championships.
My weird explanations...
QB-
Aside from the fact that Tom Brady is a stone cold killer and will undoubtedly be an NFL Hall of Famer in the future, he is married to Gisele Bunchen, so he makes the list no matter what. No, but honestly, Tom Brady will go down as one of the best QBs ever when all is said and done, and he could lead this 'Michigan Team' against anyone with 100% of my confidence. Additionally, Chad Henne would serve as a great backup under Tom, and he also happened to set about 23823 records during his 4-Year starting career in the Maize and Blue.
RB-
Chris Perry may not have the 'best' stats at Michigan, and he had a weak NFL appearance, but he was an absolute beast for Michigan in his Doak Walker winning season in 2003. Also, he is just one of my favorite players in my 'childhood' and was my last memory of beating Ohio before finally beating them again this season. Mike Hart does not need an explanation, however, and is a typical fan favorite.
FB-
BJ Askew, as we know, provides a great receiving threat out of the backfield for a fullback. He can also serve as a short yardage rusher (since neither Mike Hart nor Chris Perry can do that... (-_-))...
WR-
These three players need no explanation because they are all unreal... They easily standout as the best WR at Michigan in my opinion.
OL-
Honestly, this OL would make me an All-American RB. Hutch=pulverizer. Jake Long=Jake Long. Dierdorf= one of the best OL ever... in either college or the NFL, IMO. These two tackles would absolutely dominate competition. Also, I understand that Jumbo Elliot is a Tackle, but he is a 2x All-American, a 10+yr NFL'er, and a downright beast that could easily step in as a road-grading RG for the Wolverines. The Center position was sort of up for grabs for me, but since David Baas just won the Superbowl and was a co-Rimington award winner/All-American in his own right, I gave him the nod.
GRRRRR
GRRRRR
DT-
Chris Hutchinson and Mark Messner are both strong, high-motor tackles, but they are also terribly quick off the line, too. Messner started 49 games at Michigan and leads the program with 70 TFL and 36 Sacks... Chris Hutchinson had 11 Sacks in his SR. season for the Wolverines after playing in 48 games in the winged helmet. These two tackles provide highly, highly productive resumes and durability that will help to clog the middle and let our tackling machines at LB nail RB's in the hole.
Mark Messner
DE-
LaMarr Woodley, a former Lombardi Award winner was a terror off the edge at Michigan from both DE and a stand-up Rush OLB role. He continues to haunt players throughout the NFL and has won a Superbowl title with the Pittsburgh Steelers. Brandon Graham is a TFL and Sack-master that provided some outstanding excitement and energy to some of the worst defenses in Michigan history. These two ends provide both outstanding run-support and pass-rush capabilities.
LB-
Jarrett Irons is an absolute tackling freak. He amassed 296!!! solo tackles and 429!!! total tackles in his career at Michigan. Erick Anderson, a Butkus Award Winner, amassed 286 solo tackles and 390 total tackles in his career at Michigan, and he also recorded 4 Ints. at LB. Ron Simpkins, Michigan's second-leading tackler (behind Irons) was also an All-American who enjoyed an 8 year NFL career after his time in Ann Arbor. These three LB's are Michigan's most productive group of tacklers and could FLY around on the field, especially with the assurance that the DB's are patrolling the field behind them and with the stout line in front.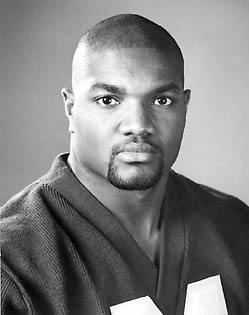 Irons looking like a BEAST
CB-
Charles Woodson is one of the greatest college players of all time, period. He also has not done too poorly in the NFL....I also chose Ty Law over some other very, very deserving players, but he is a thick, physical corner that enjoyed nearly 15 years of NFL success. Law is a 3x Superbowl champ, a 5x Pro-Bowler, and has 53! career INTs. Law is a playmaker, hands down.
S-
Choosing players for the Safety position was a much more difficult, but with the ability of Woodson and Law to lock-down receivers, I chose some head-hunting safeties that instilled fear in opponents. Keith Bostic is a Pioneer Alum, had 10 picks at UofM, and was a fixture on a highly feared Houston Oilers defense nicknamed the Houston Hitmen (Bostic is #25 in the Video). He earned the name "Batman" for his style of play, and was known for his fearlessness and toughness. Welbourne was also a tough, hard-hitting safety that played for 3 B1G championship teams. He also provides punt-returning capabilities and picked off 9 passes.
K/P-
Some other Kickers could be mentioned here for their illustrious careers at either Michigan or the NFL, but Zoltan Mesko has been a fan favorite for years and is still popular in AA.