In this series of posts, I will provide some analysis on the verbal commitments of Michigan's closest rivals, OSU, MSU, and ND...Most of the time, we only see their classes holistically in team recruiting rankings, so taking a look at specific prospects can give us a better idea of the teams our rivals will field in the near future.
First up, The Michigan State University Spartans...
Caleb Benenoch OL- Katy, TX
Benenoch is a massive offensive lineman, who most likely projects to guard or right tackle if he gets some of his "bad weight" under control. Benenoch surprisingly committed to the Spartans without visiting East Lansing, and some Spartan fans seem to have some apprehension about the security of his commitment. Benenoch has voiced plans to visit other schools such as Oklahoma State, Texas A&M, and Houston, but insists that his commitment to MSU is still strong. As a player, Benenoch is a refrigerator. He displays pretty good athleticism for his size and will a solid lineman in the B1G. In my opinion, he is a medium-floor, medium-ceiling type of player and is a solid get for Sparty.
Michigan Player Comparison- Chris Bryant
Benenoch
Gerald Holmes RB- Flint, MI
Gerald Holmes was a very early commitment for Coach Dantonio, and to me, he looks like a prospect that the Spartans would usually wait on for a commitment. Holmes's film is not terribly impressive to me in comparison to other recent Spartan RB commits. He does not display great breakaway speed, runs too upright, and does not look very shifty. He will provide depth at the RB position, but I do not expect him to be a high-impact B1G player.
Michigan Player Comparison- Drake Johnson
R.J. Shelton RB- Beaver Dam, WI
The second RB prospect in the Spartans' class is very different from Holmes and is a great pickup for MSU. Shelton is a speedy RB prospect that has been lauded for having a
high work ethic and great character
($) in addition to his accolades on the field. Shelton has great lateral agility and provides some big-play capabilities. Shelton chose the Spartans over Wisconsin, Iowa, and Minnesota, so he has the B1G offers to back his 5.7 3-Star rating. If he is able to add the strength and size required of B1G players, I fully expect Shelton to outperform his ranking.
Michigan (State) Player Comparison- 2012 MSU RB Commit, Nick Tompkins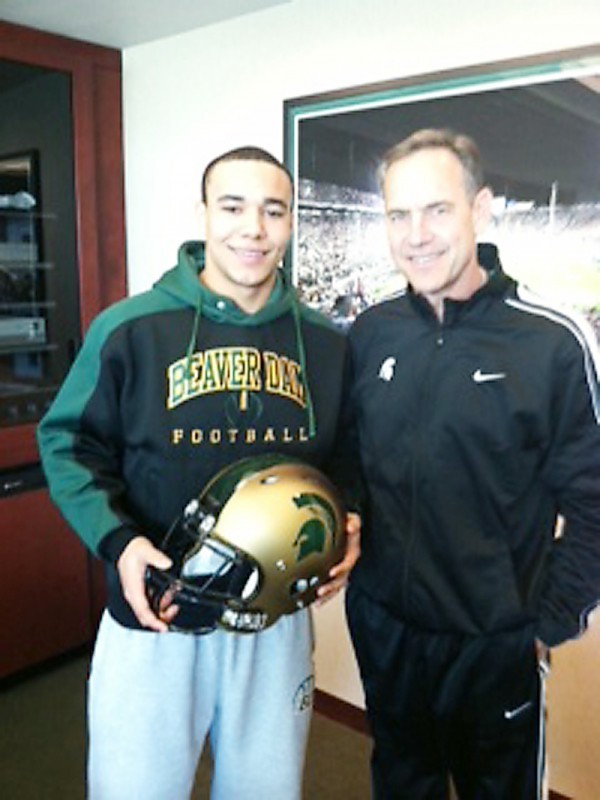 Shelton and Mark D
Damion Terry QB- Erie, PA
Terry is the Spartans' most recent commitment and is a much different QB than the past few Spartan QB's/commits. Terry competed with Michigan commit, Shane Morris at the Columbus Elite 11 tryout and got
some positive reviews
($). As expected, Terry exhibited good arm strength, but he was not quite as polished as the other QB's in attendance. Terry is a tall, athletic kid that will greatly benefit from a few years in a college system, so he can work on refining his footwork and throwing technique. Terry will most likely sit behind Connor Cook and Tyler O'Connor on the depth chart for a few years, but he has a lot of potential. Once again, he has a very high ceiling, but he needs work.
Michigan Player Comparison- Less athletic Devin Gardner.
Jon Reschke LB- Bloomfield, MI
Reschke is a great addition to the Spartans' class and will help to continue the recent trend of great Spartan LB's. Reschke is a strong kid that is very well put together for a high school junior. Already at 225lbs, Reschke will be a thumper for the Spartans. He does not display the same level of explosion as current Spartan MLB, Max Bullough, but Bullough is a special player. Reschke is a solid tackler, but he will have to work on his lateral movement and coverage in order to be a true impact player based on his Junior film. However, Reschke is a sure-fire prospect and should be a solid player for the Spartans.
Edit
- Reschke
performed very well at the Columbus NFTC camp
and was lauded for his coverage skills. Look for Reschke's Senior film to show more fluidity in coverage and pursuit if his camp performance translates to the field.
Michigan Player Comparison- Kenny Demens
Shane Jones LB- Cincinnati, OH
Jones is the second 4-Star commitment in the Spartans' class. Jones comes from a solid high school program at Moeller and, to me, is the Spartans most impressive commitment thus far. Jones is much more athletic that Reschke, but he does not really lack in size. He has the ability to play sideline to sideline and displays great coverage, tackling, and blitzing capabilities in his film. State fans will try to compare Shane to a former Moeller/Spartan player Greg Jones, but I do not see the comparison. Greg struggled in coverage but was an excellent run-stopper, and Shane looks more athletic and well-rounded in my opinion. If not for Michigan's early commitments from Mike McCray and Ben Gedeon, Jones is a prospect I would have really like the Wolverines to pursue. Jones chose the Spartans over a host of other suitors, including big-names like Oklahoma, Penn. State, and Nebraska.... Great get for the Spartans.
Michigan Player Comparison- A better Royce Jenkins-Stone
(Jones seems much more developed than RJS at this point IMO, but they display some of the same qualities, and this is the best comparison to a Mich player at this point in time.)
Jalyn Powell ATH (Safety)- Warren, OH
Powell also comes from a very solid high school program at Warren Harding and is a great get for the Spartans. Powell is an impressive athlete and has the size, speed, and hitting ability to be a great player for Michigan State. Powell is an all-purpose player for his high school team, and actually plays OLB in a lot of his film. In my opinion, he is a player that will undoubtedly see a rankings boost after his senior season. Mark Dantonio has done a great job at developing DB's over the past few years, and I expect Powell will continue this trend. Behind Shane Jones, Powell is second most impressive prospect in the Spartans class, IMO.
Michigan Player Comparison- "Poor-Man's" Dymonte Thomas
(I use the term poor-man's loosely here, because I think Powell is a very good prospect, but not quite as athletic, fast, or strong as Thomas. They both play multiple positions for their high school teams and are great football players. To me, Powell should be a Top 250 4-Star player, and I expect him to play at that level.)
In conclusion, the Spartans have a solid start to their class and will probably look to add a few more OL and DL before all is said and done. They have put together a class of solid, not flashy, players that will have the opportunity to develop before they are needed to contribute. MSU may not win 11 games every season for the next 5 years, but they will not be a doormat at any time in the near future.