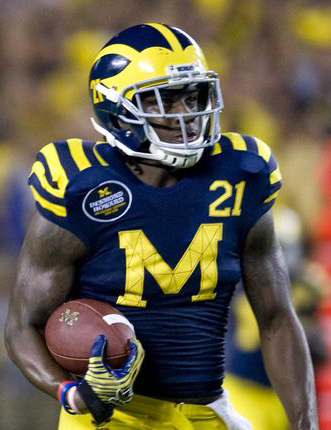 Just because i'm going to miss Junior.....
LaQuon Treadwell, WR (6'3", 190)- 96 Votes, 51%
Mr. Treadwell was overwhelmingly deemed the most important remaining target in the Class of 2013. Treadwell is a tall, athletic receiver that can help Michigan's passing game in numerous facets. He displays the ability to stretch the field with his speed, but he also displays great athleticism in running his short/intermediate routes over the middle of the field. Michigan is in need of a 'go to' receiver as they transition back to a Pro-Style offense, and Treadwell exhibits a wealth of potential. Treadwell has offers from 'everyone' in the country, and he seems like he his really enjoying the recruiting process. Once considered a decently heavy Michigan lean, we still feel like Michigan has a great shot, but this could drag out until after Treadwell has taken all of his visits.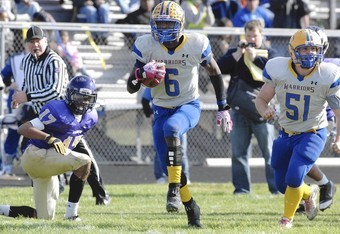 Ty Isaac, RB (6'3", 215)- 44 Votes, 23%
Ty Isaac is a very versatile RB that displays outstanding lateral athleticism for a player of his size. Isaac makes very impressive cuts all over the field and also shows a decent amount of breakaway speed. Isaac has put up astounding numbers throughout high school, and looks like he could be an absolute load to bring down in college if he continues to add strength. He does not have one glaring deficiency and seemingly does everything well. With that being said, he takes long strides and does not show the 'shake' and 'wiggle' of some players like Fitz Toussaint, nor does he show the 'battering ram' qualities of Deveon Smith, but he is a complete running back with a great mixture of size and speed. yMichigan has already secured commitments from two RB's in this class (Wyatt Shallman and Deveon Smith), but Isaac is a rare talent and offers a different skill-set. Michigan fans seem very confident in the race for Ty, but we feel like USC has pulled even with the Wolverines, and the Irish are on the outside looking in. This decision could come at any time in the recruiting process, but we believe Isaac will visit USC again before making a choice.
Henry Poggi, DE/DT (6'3", 250)- 32 Votes, 17%
Poggi is a versatile defensive line prospect and will most likely play 3-Tech DT of 5-Tech DE when he arrives on a college campus. Poggi comes from a very well-coached program in Maryland, and while he is not a physically overwhelming player, he exhibits decent technique and a great motor. Poggi is a high-effort player that could fill numerous spots on Michigan's roster in the future, depending on how he develops physically. It has been well-known that Poggi's recruitment has come down to a Michigan v Alabama battle, and at this point, it could go either way.
EJ Levenberry, LB (6'3", 225)- 6 Votes, 3%
Well, we all know how this went...Luckily for Michigan, we have Mike McCray, Ben Gedeon, and FOUR other LB prospects in the Class of 2012 that will provide Michigan with outstanding potential and depth at the LB position in years to come.
Eddie Vanderdoes, DE/DT- 4 Votes, 2%
Joe Mathis, DE- 2 Votes, 1%
Other- 2 Votes, 1%